STOP!!!
I'd really like it if you'd take the poll in my sidebar, if you haven't already. (Scroll down.) Also, from my sidebar, you can follow me on Twitter and become a Facebook Fan.
NEW!!! You can now subscribe to my blog via e-mail!!! Yes, that's right, just type in your e-mail address in the sidebar and get my posts delivered right to your inbox! I know it's what you always dreamed of, right??? LOL
Now, back to my regularly scheduled blog...
Here's another edition of Five Question Friday. To participate or read more Five Question Friday entries, check out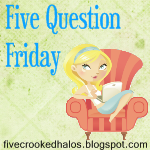 Things went strange on me as I posted my 5QF on my other blog, so I didn't dare try to transfer it over here. Instead, I'll just give you the link and ask you to forgive some formatting weirdness.
http://www.homeschoolblogger.com/crazyhouse/752870/
Thanks!!!