Well, hello there!!! I'm so glad you stopped by! :) I bet you'd like to get my posts delivered right to your inbox, now wouldn't you? So why not sign up for Feedburner? Check it out, it's right there in my sidebar! Thanks!! :)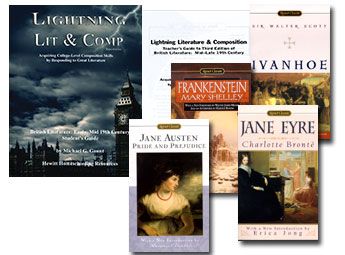 British: Early to Mid 19th Century
by Michael G. Gaunt from Hewitt Homeschooling so that we can use it in our homeschool and let you know what we think. This pack normally contains a study guide, a teacher's guide, and the four books you or your student will need to finish the course. (Reviewers did not receive the four books.)
This curriculum is intended for students in grades 10-12. (Not sure why the info below says 9-12, but it does say 10-12 on the website.) There is an introduction followed by four units with two lessons in each unit. Each lesson has four parts: an introduction, comprehension questions, literary lessons, and writing exercises. The teacher's guide also includes an introduction, grading tips, sample schedules for both one semester and a year, answers to the comprehension questions, and the writing assignments. The main book, as stated below, is perfect bound (kind of a strange description, and honestly new to me!) but the teacher's guide is simply a stapled stack of copy paper. The books are paperback. According to the website, these books are more or less mid-range in difficulty. They are more challenging than, for example, the American Literature packs, but not quite as challenging as others such as the Shakespear packs.
The four books studied in this pack are:
Pride and Prejudice by Jane Austen
Ivanhoe by Sir Walter Scott
Frankenstein by Mary Shelley
Charlotte Bronte by Jane Eyre
There are also some other texts and poetry included in the guide.
Grade Level:
9-12
Author:
Michael G. Gaunt
Publisher:
Hewitt Homeschooling Resources
Publish Date:
2011, 3rd Edition
Binding:
Perfect Bound
Dimensions:
8 1/2 by 11 inches
Number of Pages:
254
Item ID:
3442 A4A
ISBN:
978-1-57896-242-6
What are the pros of this product? I have to be honest and say that I don't really have a lot of experience with this type of curriculum, but it seems quite comprehensive to me. I like that it is so thorough and well organized. The book selections, as well as the selections that are printed in the book, seem to be rather well-rounded. I have read many books out loud to my children, and we have informally discussed them, but we really haven't done a lot of the more formal literature study. This seems like the perfect book for a family like ours.
What's not to like? I really like the teacher's guide, but I know that for someone like me, I'd prefer an actual book as opposed to a stapled pack of paper. It won't hold up as long as a book around here for sure! LOL
The Crazy Mom take: I am having my daughter, Bear, go through this curriculum. She's an avid reader, though she isn't much into studying books as she prefers to read for pleasure. This was actually addressed in the introduction as the author realizes that even he sometimes would rather read for pleasure than to study or, in his case, create a study. Bear is also not a fan of poetry or writing, but she is a good kid and always eager to help with a review.
So far, she feels this is a good curriculum. Would she do it for fun? No. However, she doesn't mind doing it for school and when fall comes, she will pick this back up and do it for credit. We'll continue to take it slowly, and will follow the year schedule. We didn't get through as much as we'd have liked to during the review period as she was gone for a week to camp and then I was gone a few days, but she did at least finish the introduction and most of the first unit, and she read all of Pride and Prejudice. She definitely preferred the Pride and Prejudice lesson better than the first lesson which focused on the poetry of William Blake because, as I said earlier, she prefers prose to poetry.
I read through the introduction and found it very informative as it gives a brief overview of the basics of literature and writing. I also found the teacher's guide quite helpful and the grading helps are great. I consider myself a writer, but it's never been easy for me to critique or grade another's work beyond just correcting grammar and spelling. I mean, I know good writing when I read it, but it's nice to be able to really break it down and give more specific feedback.
All in all, I feel this is a great curriculum and I look forward to picking it back up in the fall!
What's the bottom line? $53.73
I am going to give
Lightning Literature and Composition Pack
British: Early to Mid 19th Century
5
out of 5 smileys!!! :) :) :) :) :)
https://www.hewitthomeschooling.com/Materials/mItem.aspx?id=8074
See what my fellow TOS Crew members have to say @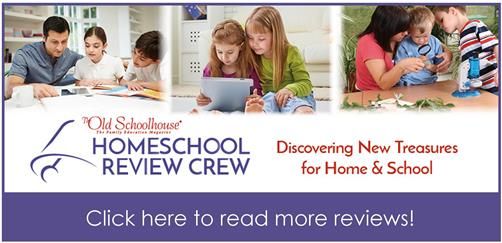 http://schoolhousereviewcrew.com/hewitt-homeschooling-reviews
:) I can't really recommend this product.
:) :) I doubt this product would be helpful to many people.
:) :) :) This is a good product, but it isn't right for everyone.
:) :) :) :) Most homeschool moms will find this useful.
:) :) :) :) :) This is great, and I would recommend it to anyone!!!