Well, hello there!!! I'm so glad you stopped by! :) I bet you'd like to get my posts delivered right to your inbox, now wouldn't you? So why not sign up for Feedburner? Check it out, it's right there in my sidebar! Thanks!! :)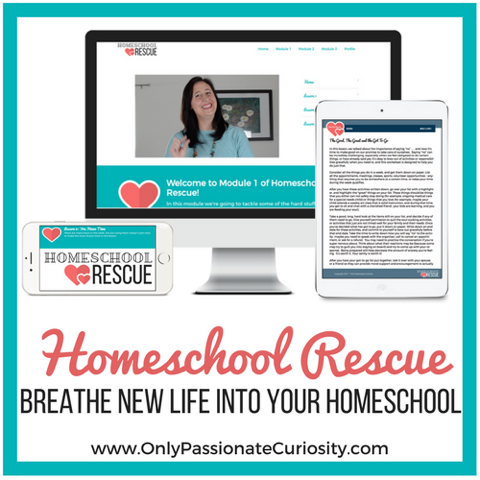 About the product/service:
As part of the Homeschool Review Crew, I received a free subscription to Homeschool Rescue from Only Passionate Curiosity. (Trivia: This company is owned by Heather Aliano who is a former Homeschool Review Crew member!) The whole idea behind this 60-day online course is to encourage any homeschool mom who feels overwhelmed or inadequate. In others words, everyone at one point or another. Their slogan is: Breathe New Life Into Your Homeschool.
The course includes over 20 videos, plus worksheets, audio files, resources, free teacher and student planners, and, if you sign up for the VIP version of the course, you actually get three one-on-one coaching sessions with Heather herself!
This graphic illustrates the content of the course very well, so I won't reinvent the wheel: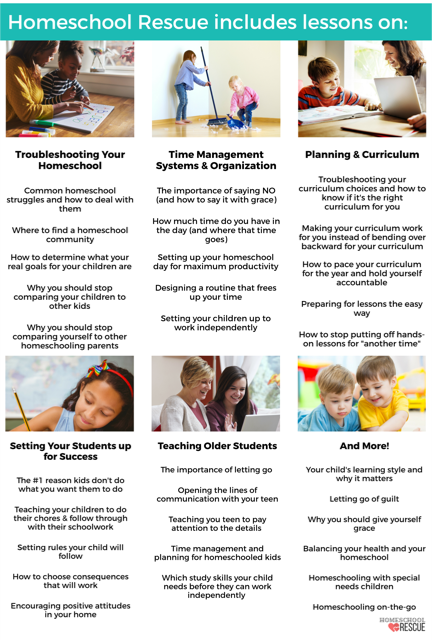 What are the pros of this product?
Did you see the above graphic? I don't think there is anything here that is not covered. The 60-day course is very comprehensive. I like the way the video lessons are fairly short, and then there are printable sheets to do as "homework." There are also audio files and other resources. It's great because everyone has their own learning style and this course incorporates many ways to learn. There is even a facebook group, a planned "live group" experience, and free digital planners for both parents and students.
Also, Heather keeps it real. Really real. Oh my goodness, she is spot on. I mean, she actually reminds us to put our phones down during school. She seems to really have a grasp on all the struggles we homeschool moms have. :)
What's not to like?
Ooohhh, you might just feel a little convicted. ;)
The Crazy Mom take:
I think this course is fantastic. I know there are times in my life when I really could have benefitted from a course like this. Heather is like having a homeschool veteran as a best friend who will not only help and encourage you, but will call you out if you're getting off track.
I am just finishing up my 21st year of homeschooling. I think I have things pretty much down. I still felt like she pointed out some areas I could tweak. That cell phone thing. Ugh. I am so guilty. If my kids are working on a math problem, I'll just pick up my phone to take a peek. You know, they hate that! They are always on me to put it down. Even though they don't need me to watch them work step by step, they want to know I am fully engaged in their learning.

Another thing she talked about was saying "no." I have learned to do this, and I can't tell you how freeing that is! Even when you feel obligated to someone to do something, you really have to decide how it is going to affect you and your family. Yes, God wants us to do things that aren't easy sometimes. Yes, we are called to sacrifice, but we really need to be sure we are in God's will when we say yes.

Yet another issue I have struggled with that she addresses is finding time to do "hands-on" things. Wow, this one is me all the way. I am a book learner. I am always putting off things like experiments and art projects until "later." I have gotten a lot better since being on the crew forces me to do some things, but I'm still learning. :)
I didn't get through all the lessons like I'd have liked to. What I did get though, I thought was really good. She really does have a gift for teaching and obviously has gained a lot of wisdom. She's basically the Titus 2 woman I aspire to be. :)
What's the bottom line?
$97 for a lifetime membership/VIP membership $137
I am going to give Homeschool Rescue 5 out of 5 smileys!!! :) :) :) :) :)
Check it out!
http://www.onlypassionatecuriosity.com/homeschool-rescue/
See what my fellow TOS Crew members have to say @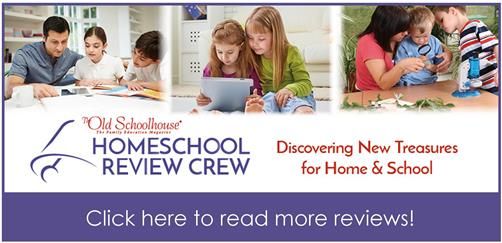 Social Media Links:
:) I can't really recommend this product.
:) :) I doubt this product would be helpful to many people.
:) :) :) This is a good product, but it isn't right for everyone.
:) :) :) :) Most homeschool moms will find this useful.
:) :) :) :) :) This is great, and I would recommend it to anyone!!!