Well, hello there!!! I'm so glad you stopped by! :) I bet you'd like to get my posts delivered right to your inbox, now wouldn't you? So why not sign up for Feedburner? Check it out; it's right there in my sidebar! Thanks! :)
About the product/service: As part of the Homeschool Review Crew I received a free Yearly Membership subscription to SchoolhouseTeachers.com, a division of The Old Schoolhouse Magazine.
What are the pros of this product? Wow. This is like one stop shopping for all your homeschool needs. I'm serious; you could practically homeschool your child from preschool through high school with just this subscription. (Okay, not in one year. LOL) Actually, you could homeschool all your children with just one subscription because one price covers everyone. :) There is just so much. There are over 300 classes available for just about every grade and subject. There is help with things like record keeping and transcripts. There are resources for kids with special needs. There is help for parents of high schoolers. I spent quite a bit of time clicking around the site, and I don't feel like I even scratched the surface.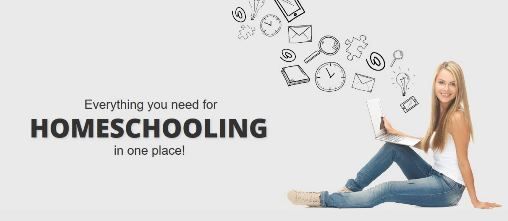 What's not to like? The only think I could really think of was the fact that the videos are not Hollywood productions. The one class I am using that is video based (ASL) is obviously pretty low budget. This didn't really bother me at all as the content is excellent. Other than that, I don't really see any negatives.
The Crazy Mom take: I was a little overwhelmed by all that is on the site. There is so much to choose from! I decided to try out a couple different things with my family. I had no trouble navigating the site or finding what I was looking for. It's very well organized. I just have a hard time choosing. (You don't really want to go out to dinner with me; it takes me forever to decided what I want!)
First, I decided on the ASL course. We have been studying ASL for quite a while, but I was kinda winging it. I had bought CDs, but they kept getting lost or scratched, so this year I just decided to go through my books. Really we've just been learning words, but not really learning a language. The first thing I looked for on the site was an ASL class. I was so excited to have found one! We've only done a few lessons, but I am already so much happier with what we are doing. First, we are actually learning, not just about the language, but about the deaf culture. Second, I don't have to worry about losing or scratching a disk. It's right there on my laptop! I think this is going to be a perfect fit for us.
Next, I found an art class for my daughter that I think she is going to love. We haven't had a chance to really start it yet, but I have looked through it and even joined it's facebook group! Oh, wait, I'm supposed to be doing an honest review. I mean, I do think my daughter is going to love this class, but I'm really interested in it myself. I have always dabbled in art and even took some classes in college. In those olden days, there weren't computers available to the average person. Now, I have the computer, but I need a class. Going to college isn't really feasible right now, so I am going to work through these lessons myself. They look fantastic! If Bear wants to join me, and I'm sure she will, that's fine, but I am really going to try to fit this into my schedule. Can you tell I am super excited?
I normally shy away from subscription sites. I'm a cheapo. There is so much available for free on the internet, why pay? This is actually an exception. I can think of several good reasons to subscribe. One, everything is in one place, which just saves a ton of time trying to piece together something from several different sources. Two, no lost books or CDs. Yes, that's an issue here. Three, the cost covers everyone, so it's probably going to cost most people less than it would if they were to buy books. Fours, mom or dad can take classes for no additional cost! Finally, everything is from a Christian perspective, and I believe that you can feel pretty confident that the course content will be acceptable to most conservative Christian families. (Obviously, I haven't seen everything so this is not a personal endorsement of everything available. I just feel that for me, I would feel pretty safe allowing my kids to pick and choose from any of the classes. Of course, parental oversight is always recommended.)
What's the bottom line? $138 per year
Until January 15 use the code CHRISTMASYEAR to pay $90/year!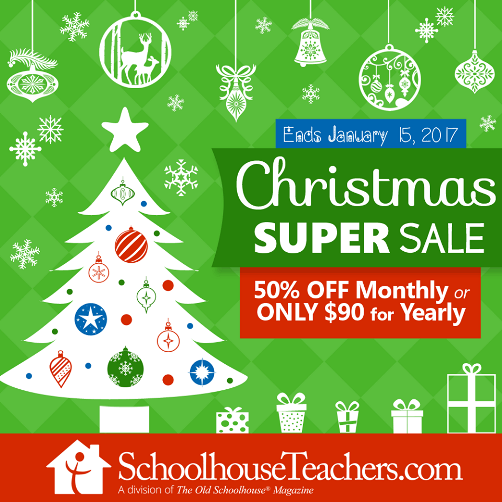 I am going to give SchoolhouseTeacher.com 5
out of 5 smileys!!! :) :) :) :) :)
Check it out!
https://schoolhouseteachers.com/membership-benefits/join-now/
See what my fellow TOS Crew members have to say by clicking on the banner or link below: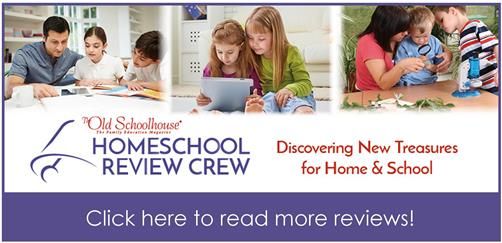 http://schoolhousereviewcrew.com/high-quality-self-paced-online-homeschool-resources-schoolhouseteachers.com/
*The Smiley System:
:) I can't really recommend this product.
:) :) I doubt this product would be helpful to many people.
:) :) :) This is a good
product,
but it isn't right for everyone.
:) :) :) :) Most homeschool moms will find this useful.
:) :) :) :) :) This is great, and I would recommend it to anyone!!!